Elevate Your Spa Experience with Covana
Equip your spa with top-notch protection using Covana hot tub and swim spa covers. These covers go beyond mere protection; they come equipped with automated technology, transforming them into versatile gazebos. Spa owners can rest assured that their Covana cover not only safeguards their spa when it's not in use but also adds a touch of elegance to their backyard when hosting guests. With Covana, spa owners can indulge in a truly opulent and cutting-edge hot tub gazebo experience, every single time.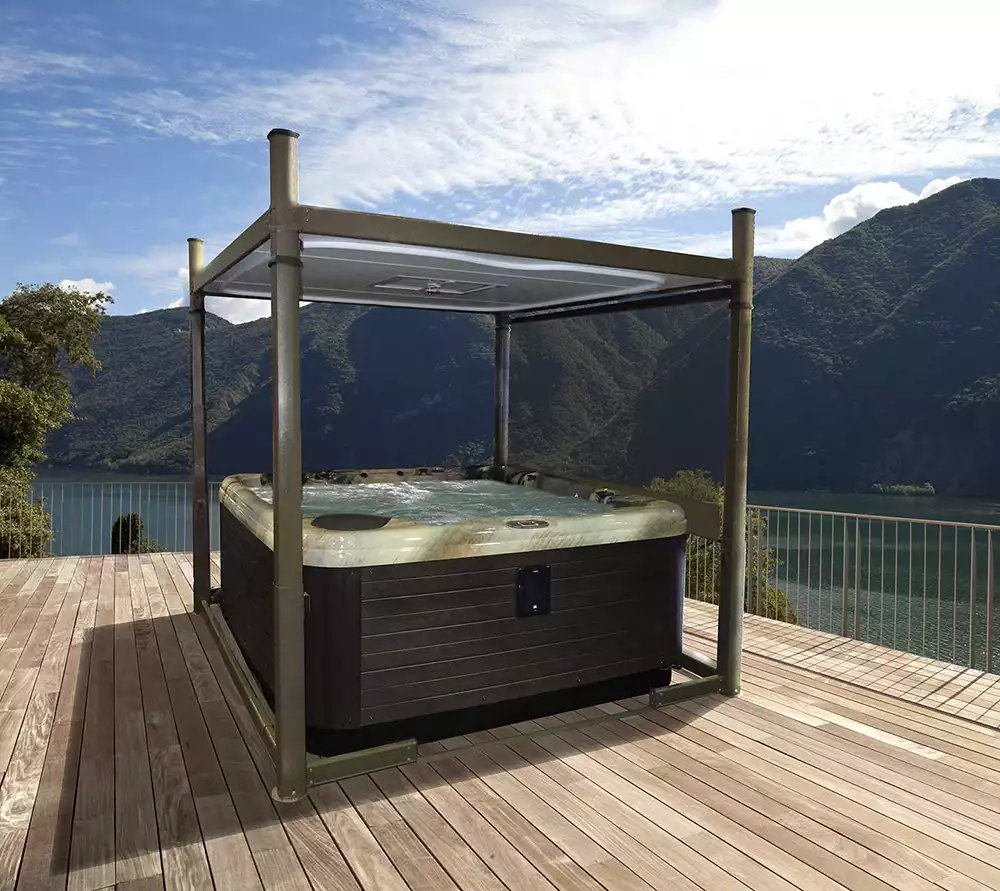 The COVANA EVOLUTION provides versatile solutions, accommodating square hot tubs ranging from 7′ to 8′, rectangular units from 8′ x 9′ to 8′ x 11′, and even offering an automatic option for round hot tubs up to 8′.
With its sophisticated design, the COVANA EVOLUTION achieves a sleek and streamlined appearance, and its adaptable sizing ensures compatibility with larger hot tubs. We take pride in delivering elegance, security, and user-friendliness to enhance your spa experience.
Experience enhanced accessibility and ease with the Covana LEGEND for your swim spa.
Regardless of the weather, you can effortlessly retract the cover with a simple key turn, granting you quick access without the hassle of manual removal. When closed, this robust cover offers superior insulation and unrivaled protection against unwanted access, ensuring safety for children and pets. When open, its durable design shields you from adverse weather, providing peace of mind. Additionally, the LEGEND's adaptable design accommodates both oval and rectangular swim spas, offering versatility.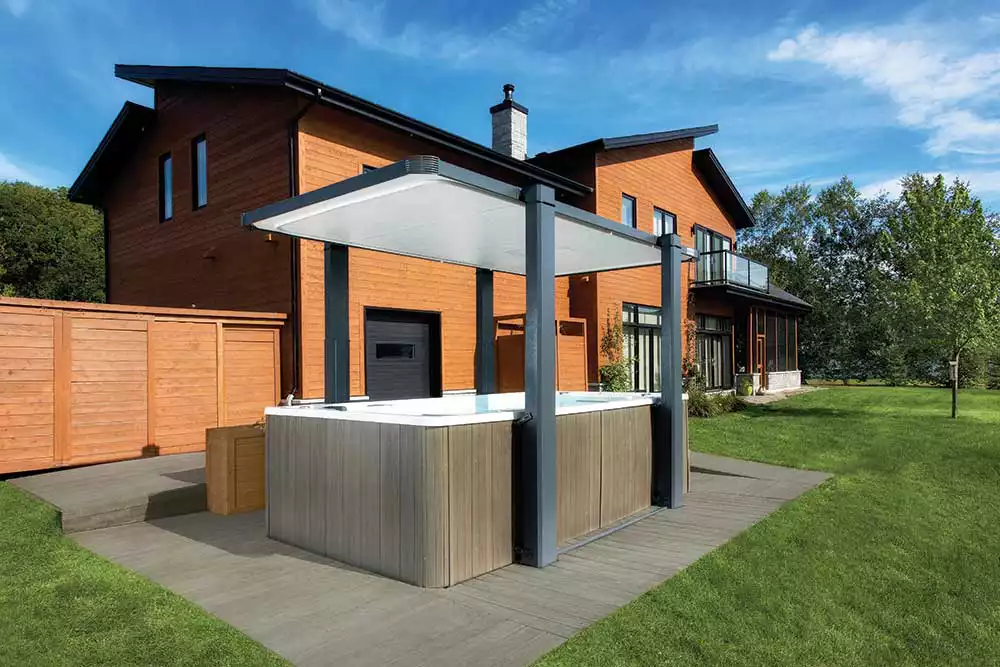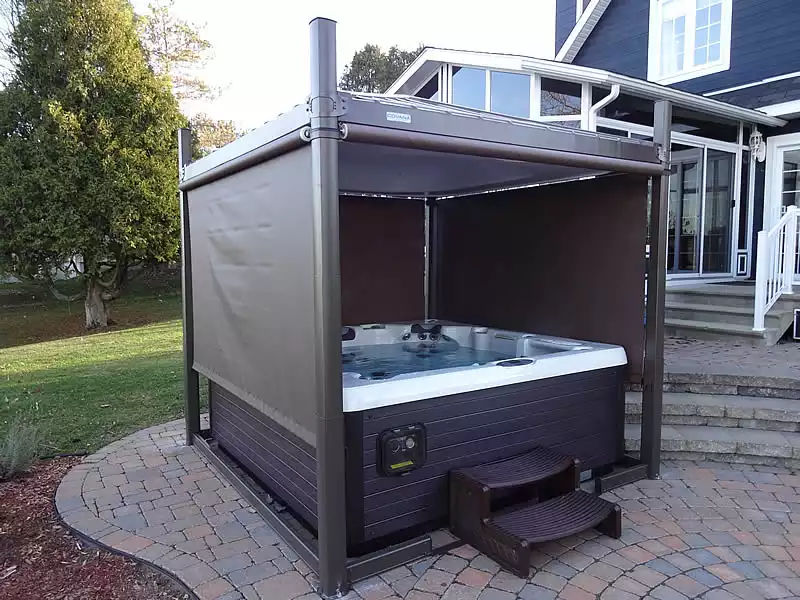 The Covana OASIS isn't just a fantasy; it's a cutting-edge, user-friendly gazebo and spa cover combined!
When closed, its watertight seal reduces heating costs and ensures security, protecting your investment over its lifespan. In contrast, traditional covers typically last only three years. When open, it transforms into a contemporary gazebo in just 20 seconds, providing shelter from storms and UV rays. Enjoy privacy, contemplation, and relaxation with optional retractable shades and a customizable LED lighting system offering seven distinct settings.
Experience The Luxury Of Covana
Covana systems transcend mere hot tub covers, serving as fully automated gazebos that prioritize your utmost comfort, safety, and privacy. Crafted with cutting-edge materials, our products are engineered to withstand even the harshest weather conditions while helping you save on water, heating costs, and maintenance.
Benefits Of Covana Covers
Enhance your outdoor space with the finest hot tub gazebo on the market. Opting for a Covana cover brings a multitude of advantages to your spa setup.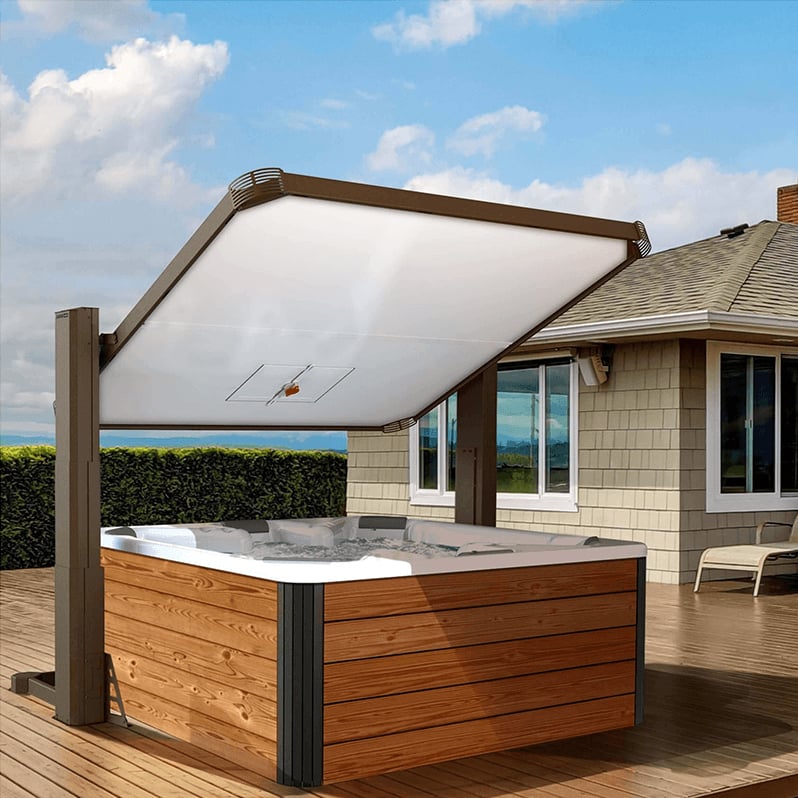 Find the best spa for your lifestyle, starting with the top-sellers that undoubtedly lead the industry.