FREQUENTLY ASKED QUESTIONS
As a trusted name in the pool and spa industry, our team at AquaVision Pool & Spa understands that you may have some questions and concerns about pool maintenance, chemicals, water care systems and many more. We have compiled this handy guide where you can get answers to some commonly asked questions.
Most frequent questions and answers.
Explore the most common spa questions and concerns. If you don't find what you need here, please contact us.
How to Raise pH in Hot Tub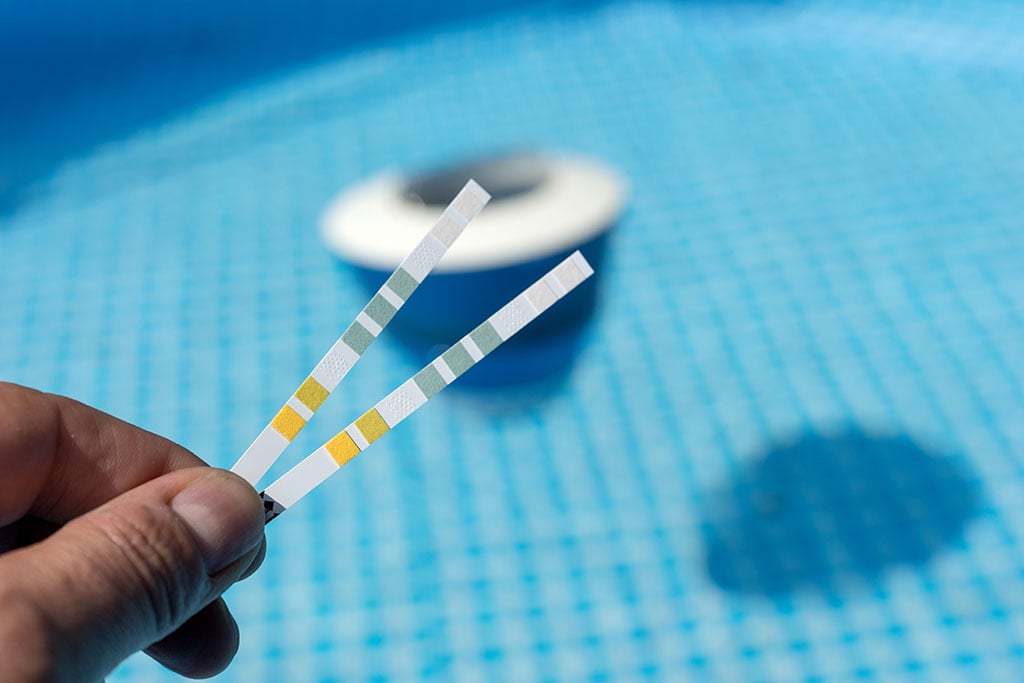 We all wish to soak in a hot tub at the end of the day without any worries on our minds. However, that is only possible when all the conditions are perfect, such as the water temperature, total alkalinity level and pH level. These things will not take care of themselves, hence it is important to know how to regulate the pH level of your hot tub if it is too high or too low. A basic understanding of the chemistry behind pH is all that's needed, and anyone can control the pH level of their hot tub by themselves.
Whether you are moving to a new house or simply looking to move your hot tub to a new location within your property, you will need some help. It is impossible and dangerous to attempt moving a hot tub on your own – never do that, no matter what. If it is within your budget, the best choice would be to hire a professional moving company to take care of the entire process from start to finish. If not, you will have to engage the help of a few friends as well as rent a truck and get some equipment.
How to Winterize a Hot Tub
For those who stay in areas with cold climates, using an outdoor hot tub during the frozen months of winter is a luxury. There is no better way to warm your shivering body and soul in subzero temperatures than by dipping in hot water. Your hot tub can also be a great location to hold gatherings with your loved ones. If you own a hot tub, you know that winter is the perfect time to use the hot tub. However, if it needs to be left dormant during the winter, here are some tips you can follow to winterize your hot tub to shield it against potential damage.
Winterizing needs to be done as early as possible instead of waiting until the very last moment. Get an early start by planning ahead of time. By making sure the water inside your tub is clean before draining, you can reduce the risk of bacteria lingering around in dormant pipes when you are not using it. Pick a clear day with temperatures above zero to prevent the water from freezing in the pipes.
Before draining, assemble some equipment as following:
A dry or wet vacuum cleaner to suck out as much water as possible from your tub, pipes, and jets.
A hose to drain water from the drainage plug.
Absorbent towels to dry out any leftover water at the bottom of the tub.
Propylene Glycol antifreeze to prevent the pipes of your tub from freezing (never use Ethylene Glycol).
A long funnel to pour the antifreeze into narrow pipes.
Turn off the power to your tub by tripping its mains on the electrical panel.
If you have a sump pump, use it to rapidly draw the water from your tub. Else, you can just let gravity do the work for you. Simply unscrew the tub's drainage plug, attach the nozzle to a garden hose, and let the water flow out. When most of the water has drained out, use the vacuum to suck out the rest.
Remove the tub's filter cartridges, clean them out, and store them in a warm space until your return. If there is any remote control, stow it away too.
After draining, you need to expect several gallons of water to still remain hidden in your tub. To prevent it from freezing and damaging your tub, get rid of it as much as possible by using your vacuum.
After as much water has been removed, continue winterizing it through the following steps:
Screw the drainage cap back on.
Use an absorbent towel to remove any moisture on the hot rub surface.
Use a funnel to pour the antifreeze into your filter standpipes, jets, and any other openings.
Strap and secure your hot tub cover and place plywood boards on top to prevent snow and ice from weighing it down. Secure a plastic tarp over the entire cover.
Upon your return, remove any antifreeze and fill your tub with water. Double the amount of chlorine then drain the water before refilling it back again. Fit clean filter cartridges and you are good to go.
How to Lower Alkalinity in Hot Tub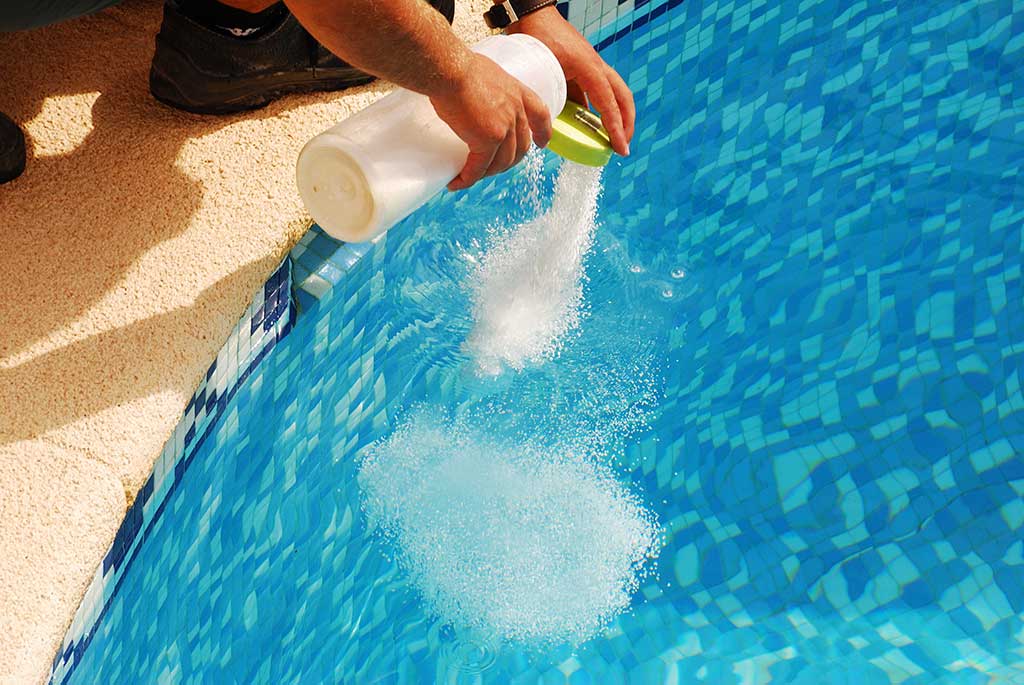 Owning a hot tub is a luxury and to spend time submerged in the hot water is the perfect way to unwind and relax after a stressful day. However, it does not come without a fair share of maintenance. One of the biggest tasks is to monitor the water to ensure its chemical composition is well-balanced. Below is a guide on how you can lower alkalinity of your tub when it gets too high.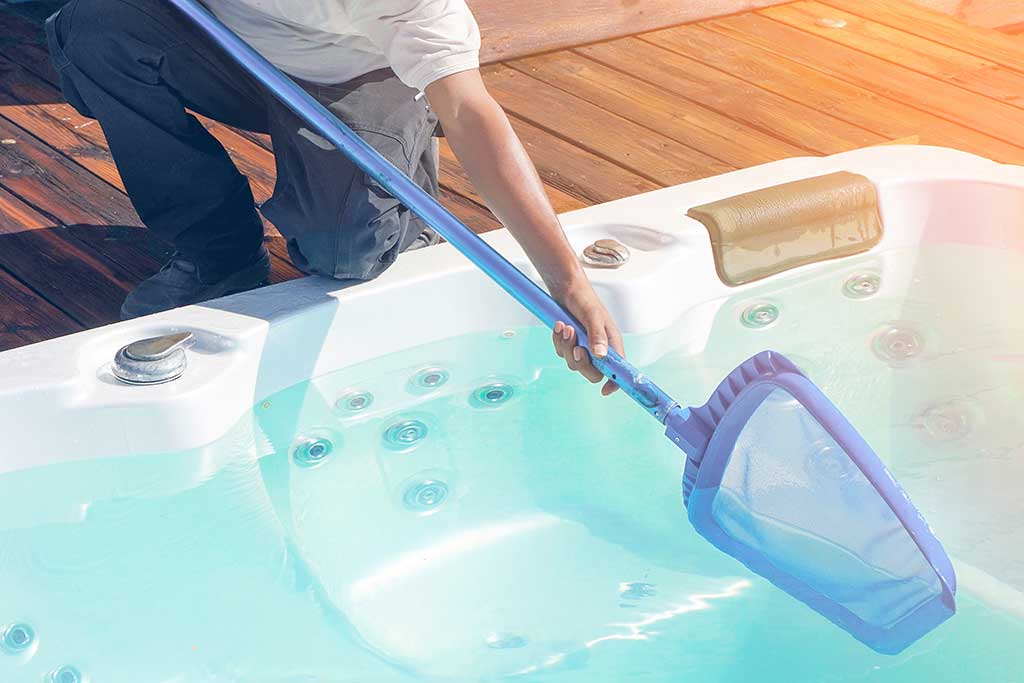 Your hot tub is just like a huge bathtub, except that you do not need to drain it after every use, and you use it to soak with several other people. If you are unsure how to drain a hot tub, below are a step-by-step guide that can help you complete the procedure with ease.
The same water sits inside your hot tub for weeks or even months long at a time. Yes, you may already be treating it with sanitizers while shocking it regularly. However, it is still the same water that you had since the first day. Eventually, it needs to be changed to keep it free from the following organic contaminants:
Lotions
Body oils
Hair products
Cosmetics
Urine and feces
Sweat
These residues do not just stay in the water. They actually pass through the filter and plumbing system too. The filter does complete its job of grabbing most of the residues but there is just so much it can do. The rest of the residues still passes through the pipes and will eventually create a layer of build-up called a biofilm.
Bits of bacteria and fungi that stay and build around the pipes of your hot tub make up the biofilm. They are aware that chlorine can eliminate them, and this is the reason why they protect themselves by building a barrier that is impermeable to chlorine. Over time, more of their kind sticks themselves to the piping system and the biofilm will continue to thicken until something is done. The longer the biofilm remains in the water, the higher the level of contaminants inside. 
There are several signs and circumstances that you can look out for before deciding that it is time to clean your tub.
There is a foul odor
The water will not clear up regardless of what you do
You have been using your tub more frequently
You have had more guests 
The tub has been left unused for quite some time
After draining your hot tub, start by first cleaning or replacing the filter. There is a special cleaning spray which is suitable for this process. If you wish to deep clean the filter, soak it up in a 5-gallon bucket filled with water mixed with a suitable cleaner and leave it for 24 hours. Before fixing the filter back on, make sure it is clear of any chemical residues. 
Once your hot tub is empty, it is time to clean its surface. Follow the following steps:
Spray its shell with diluted white vinegar or a special cleaner. Pay attention to every nook and cranny where algae, mildew, or bacteria may be hiding. 
Use a non-scratch scrubber to remove any residues.
Rinse the surface well and drain any excess water to prevent foaming.
Check that all jets are open after you have cleaned and rinsed the tub. This can prevent low pressure later on due to trapped air.
Close the drains and you are good to go after you have re-filled your tub with fresh water!
If you have a question that is not listed here, you can email us at info@AquaVisionPool.com and a member of staff will be in touch as soon as possible.