Having a pool in your yard is something that many families and individuals dream of. That dream has finally come to fruition and you, the kids, grandma and grandpa, and the neighbors frequently enjoy sitting out by your pool and taking a dip on hot days.
However, along with a home pool comes the age-old question, "How do I keep my pool clean?"
There's a lot more to pool maintenance than running a skimmer across the top to catch those errant leaves and bugs. There's the proper machinery for filtering, vacuuming the pool, and, of course, the chemical balance that must be tended to each and every day.
Yes, having a pool in your backyard is a little taste of luxury that makes life a whole lot more enjoyable. But it also takes a lot of work.
Here, we'll run through some simplified information as to how to keep your pool clean. The best way to go, however, for peace of mind and a better opportunity to completely enjoy that pool, is to have all of the maintenance taken care of by a pool cleaning professional.
You have better things to do with your day – like lounging by the pool with a tropical cocktail!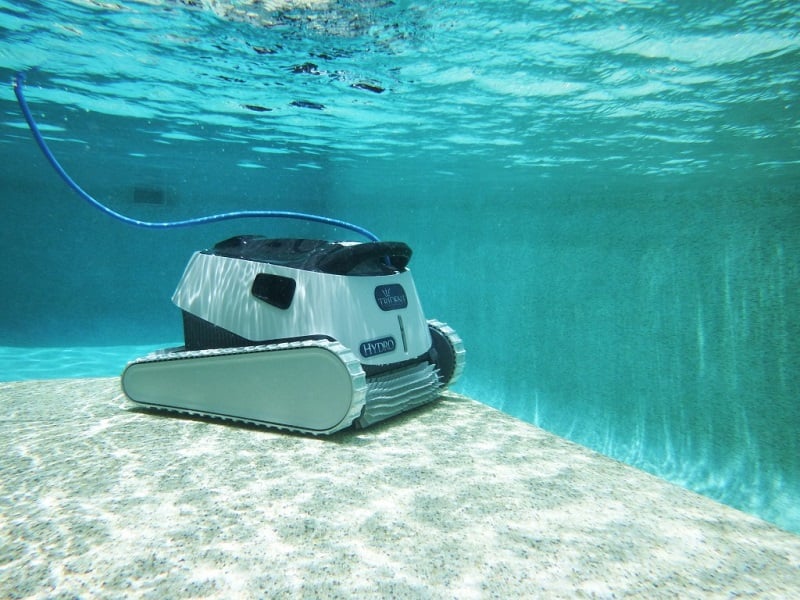 1. Let the Robot Do It!
Not so very long ago, robotic pool cleaners were something of an oddity. But they have become relatively routine for any number of pool owners today.
They cannot, however, do everything for you. More or less, they suck up debris while driving around your pool. They are self-contained and small.
2. Vacuuming Your Pool
If you vacuum your pool every other day, you should be okay, unless it's warranted more often. Particularly after a big storm, however, this can be very labor-intensive.
You will need a few things:
Vacuum plate or skim vac
Long vacuum hose
Vacuum head
Telescopic pole (this item is indispensable)
3. Brushing Your Pool
The corners, ladders, and walls of your pool should be brushed no less than twice a week. To get all lurking algae formations, hit every nook and cranny. Brushing won't take care of the problem, however, if you already have a serious algae problem.
That telescopic pole you have for the vacuum will come in handy here again. To get rid of algae before it takes hold, you will attach your pool brush to the pole. For the following pools, different brushes should be used:
Painted concrete, vinyl, or fiberglass should be brushed with nothing other than nylon bristles.
A brush with stainless steel bristles can be used on gunite (a sprayed-on, durable mix of sand and concrete).
Unpainted concrete can be brushed with nylon bristles and stainless-steel bristles.
4. Skimming Your Pool
This is something that's done pretty much as needed. Your skimmer should, once again, have a telescoping pole so you can reach that pesky debris in the middle. With your skimmer net, you can scoop up hair ties, twigs, bugs, leaves, and more.
Your choices here are pretty much a bag skimmer or a flat skimmer. The bag skimmer is a pain to empty but holds more. It's easier to shake off debris with a flat skimmer.
5. Two Additional Pieces of Equipment to Consider
While some people prefer a pressure-side pool cleaner, others opt for a suction-side pool cleaner. The latter is not particularly recommended. It is not unlike a manual pool vacuum but may not be worth the risk as it can damage your filter if it picks up something large and hard.
Using water from your system, conversely, the pressure side pool cleaner is preferred by many. All you have to do is empty a bag, once all of the debris has been pushed into it, courtesy of the cleaner attached to your return jet.
6. Pool Filters
No matter how much you vacuum, brush, and skim your pool, your water is dirty if your filter is dirty.
There are a number of filters that can be used for pool cleaning. Between cleanings, keep an eye out for debris, and clean your filter on a regular basis, regardless of the type.
Note: If you have a deck around your pool, once you're finished cleaning the pool, you're not done! Your pool deck needs attention on a relatively regular basis, as well. Additionally, never forget the perfect, constant chemical balance. It is the lifeblood of your pool.
AquaVision Pool & Spa Can Help Answer The Question, "How Can I Keep My Pool Clean?"
So you can lie back and relax, take a dip, and have some fun in the sun.
Let AquaVision Pool & Spa do all the hard work for you.
From equipment replacement to liners to weekly cleaning – and pretty much anything else involving pools and spas – our certified service department is here for you. For both commercial and residential customers, we offer service on all major equipment manufacturers.
Got questions? Would you like to set up pool maintenance? Contact us today for more information.