If you have a pool, you likely know how important water care and maintenance are.
Clean water is vital in keeping your pool both safe and enjoyable to be in, and while your chemicals are an important part of this, vacuuming it is equally as important.
Unfortunately, cleaning your pool can be a time-consuming task. Especially if you have a busy schedule or a large pool!
This is where robotic pool cleaners come in!
These innovative cleaners make caring for your pool easier and take the hassle out of your regular cleaning routine.
With various styles and features, you'll discover plenty of options that can fit your unique needs, making your pool maintenance easier than ever.
If you've been wondering about robotic pool cleaners, you've come to the right place.
In this article, we're going to explore everything you need to know, from how they work and their top benefits to how to choose yours and keep it in good condition.
How Robotic Pool Cleaners Work
Robotic pool cleaners are high-tech devices that can make cleaning your pool effortless.
They roam under the water of your pool, cleaning every surface with their brushes and scrubbers, pulling debris, and filtering it out of your water.
One of the most amazing things about these cleaners is that they don't only clean the bottom of your pool.
Many models have the capability of scaling your pool walls, ensuring every surface is cleaned and ready for you to jump in.
Robotic pool cleaners get hooked up to an electric pump and have a motor that's outside the water to give them the power it needs.
Once it's running and is underwater, it'll scrub the waterline, walls, and floor of your pool to remove debris.
As it does, it'll circulate your water through its system to filter out any contaminants that it's pulled up, leaving you with a clean pool and crystal-clear water.
Advantages of Robotic Pool Cleaners
As you can imagine, robotic pool cleaners boast an impressive array of benefits, making them a coveted addition to many people's pool toolkits.
Here are some of the best advantages you'll experience with a robotic pool cleaner.
Saves You Time
This is likely one of the most alluring advantages.
Robotic pool cleaners don't require you to set aside time out of your day to stand by the edge of your pool and vacuum.
This is especially helpful if your robotic pool cleaner is able to be scheduled to clean at certain points of the day.
For example, the robotic pool cleaner can clean during the day while you're at work.
That way, you can leap into a freshly cleaned pool when you get home – without having to vacuum it first!
Because they are completely autonomous once in the water, you can go about your day without worrying about vacuuming any longer.
Simply power it on, set it into the water, and let it get to work!
Keeps Water Cleaner
While traditional vacuums do their job well, as technology advances, so does the cleaning potential they provide.
Robotic pool cleaners are equipped with more than one way to clean your pool, from scrubbers to brushes.
This ensures they not only scrub the surface of your pool but sweep up any debris they may push up into your water as they do.
Furthermore, it's not uncommon to skip vacuuming your pool and wait until the weekend when you have time.
Robotic pool cleaners make it easy to give your pool the daily clean it needs, minimizing debris and keeping your water cleaner than ever.
High-Efficiency
Not only does the frequency help increase the efficiency of these cleaners, but their features also play a role.
Many robotic pool cleaners include sensors and mapping technology to make cleaning your pool even more efficient, tracking their movements and ensuring they hit every section.
Additionally, because they are able to clean your pool faster than traditional vacuums, you'll be using less energy than you would with traditional vacuums.
Reduces Unnecessary Costs
While these cleaners certainly have a higher price tag, they save you money over time that can more than makeup for the larger upfront investment.
The efficiency alone will reduce the energy costs of cleaning your pool. However, they also ensure your chemicals are able to work more effectively.
This lowers the amount you need to use to maintain your water chemistry, further reducing your maintenance costs.
Takes the Work Out of Pool Care
Ultimately, robotic pool cleaners make pool care effortless, letting you focus your attention elsewhere without sacrificing the quality of your maintenance routine.
This makes it possible for your pool to bring you even more enjoyment and even increase how often you enjoy a refreshing swim.
How To Keep Your Robotic Pool Cleaner Working Properly
Robotic pool cleaners are an investment and require some care to maintain their effectiveness and efficiency.
There are two essential steps you need to be taking:
Cleaning the filters
Inspecting and cleaning the brushes and scrubbers
As water is filtered through your robot's system, any debris will be filtered out, slowly building up on your cleaner's filers.
Removing these filters after every clean and rinsing them off will help keep them in good condition much longer and ensure every cleaning session is as effective as the last.
Additionally, your brushes and scrubbers are doing some heavy work each time it's roaming around the bottom of your pool.
Keeping a close eye on these parts for any damage is essential in ensuring they are able to work properly.
Once a week, remove the scrubbers and brushes, and clean them off before inspecting them for any damage and returning them to your unit.
How to Choose the Right Pool Cleaner for Your Pool
Robotic pool cleaners come in various forms, with different features and capabilities, so it's important to know what you're looking for before you invest in one.
Here are some aspects to consider that can help ensure you choose the right one for you.
Pool Size and Type
Your pool size will have a significant influence over which cleaner will be a good fit.
If you have a large in-ground pool, you'll want to find a cleaner that is larger and capable of cleaning a pool of your size without extensive run times.
Secondarily, the type of pool you have, such as concrete, fiberglass, or vinyl, will affect which robotic pool cleaners will work best.
Must-Have Features
Not all robotic pool cleaners are built the same, and some include more advanced features than others.
For example, not all of these cleaners have the capability to scale the walls of your pool.
Some other features you may want to consider include:
Scheduling
Mapping or tracking
Smart cleaning technology
Various cleaning methods, such as fast cleaning or deep clean
Smartphone compatibility
These features are only the most advanced options and certainly aren't a necessity.
However, for many, they are alluring features that only further enhance the ease of use and benefits they gain with a robotic pool cleaner.
Before you begin your search, make a list of your must-have features to help ensure you get everything you need.
Budget
Robotic pool cleaners are easily one of the most costly cleaners on the market, so your budget will play a big role in which one you buy.
Luckily, with so many options on the market, and various features, finding one to fit your budget won't be a challenge.
Better yet, the money they'll save you over time will more than pay for their initial cost in the end!
Alternatives to Robotic Pool Cleaners
If you're not quite ready to invest in a robotic pool cleaner, you have two other options that offer benefits of their own.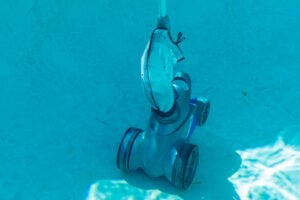 Pressure-Side Pool Cleaners
This is easily one of the most popular pool cleaners, providing a more hands-off approach than suction vacuums without the extra bells and whistles included in robotic models.
These cleaners don't rely on electricity to work like robotic cleaners but instead use the water flow from your pool's pump to function.
Unfortunately, they require a high-pressure water flow to work properly, which may require you to purchase a booster pump to make them effective.
Furthermore, these cleaners are only able to remove larger debris but have their own filter bag, making them fairly efficient and easy to maintain.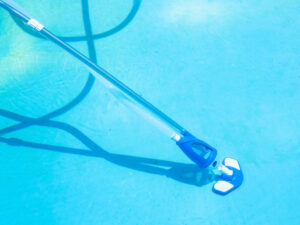 Suction-Side Pool Cleaners
This is the least expensive pool cleaner and is best for small to medium-sized pools.
This cleaner connects to the suction portion of your pool filter and transfers the debris from your walls into your skimmer.
While this is a great option for anyone sticking to a tight budget, it's one of the least effective, as it doesn't have any scrubbing power and simply uses suction to clean your pool.
This can lead to higher cleaning times, making it more costly to run.
Robotic Pool Cleaners for Sale in Greensboro
While there are various ways to clean your pool, robotic pool cleaners are easily the most effective and efficient options on the market.
While they have a higher price range than other cleaners, they save you both time and money, are more efficient, and include many features that enhance their performance, making them a highly appealing option.
If you've been looking for the perfect way to make cleaning your pool easier without compromising on the quality of your clean, a robotic pool cleaner is a perfect solution.
With a range of styles and optional features, there's a model that will easily meet the needs of both you and your pool.
The experts at AquaVision Pool & Spa are here to make finding yours easy, with two convenient locations, one in Greensboro and another in High Point.
Contact us, or visit your local showroom to get started!